Synopsis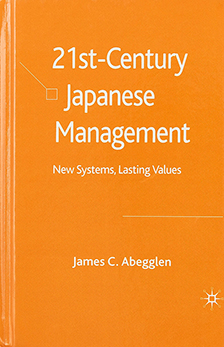 In Stock
Economics / Business
21st-Century Japanese Management: New Systems, Lasting Values
(Palgrave Macmillan 2006)
James C. Abegglen
As long as the high growth of Japan's economy continued, various known methods were appropriate: investing in equipment, financing through bank debt, seeking success in market shares, hiring more workers in an anticipation of growth.
When this growth suddenly stopped, as it did in the mid-1990s, major changes in industrial structure became necessary, in financial assessments, in business strategies.
This meant the redesigning of Japanese industries.
How this was accomplished, as well as the way in which it wasn't, is the theme of Abegglen's book.
Many changes were made but the values that shaped Japanese companies—the company as a social organization—have continued.
The author offers an understanding of the financial remedies that have been advised, while at the same time considering the underlying social continuity.
Through these considerations it is possible to indicate the future directions of Japan's economy into the new era after the decade of stagnation, and the return of steady growth and a relative prosperity.
Considered and discussed are Japanese-style management, the imperatives of research, the models envisioned (U.S. model/Japan model), the role of the foreign investor, and most of all the many possibilities of Japanese companies.
BACK