Synopses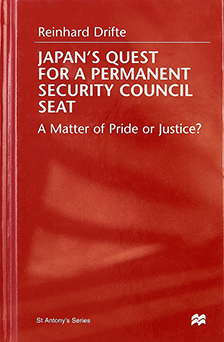 Politics / International Relations
Japan's Quest for a Permanent Security Council Seat: A Matter of Pride or Justice?
(St. Martin's Press 2000)
Reinhard Drifte
For more than thirty years Japan has been consistently pursuing the right to a seat in the UN Security Council.
How and why this ambition came about is the subject that the author, Professor of Japanese Politics at the University of Newcastle upon Tyne, sets for himself.
This necessarily involves a study of the workings of both the Japanese Foreign Ministry and what has been characterized as Japan's underdeveloped multilateral diplomacy.
Among the many interesting findings in this book is the strong impression that Japan has made, wavering on so many issues, placating American pressure.
At the same time the author provides the reader with insights into the Japanese position.
In finding the country "not a leader, but a successful follower," he is voicing a common idea, one which many feel defines both Japan's effort to attain and in part the reasons for its having been denied a UN Security Council seat.
He also shows that the Japanese media consider membership justified.
Today a two-thirds majority of the Japanese public opinion supports the bid for a permanent seat.
The author's statistics qualify Japan as a valid member and express the hope that Japan may become an active multilateral partner.
BACK