Synopsis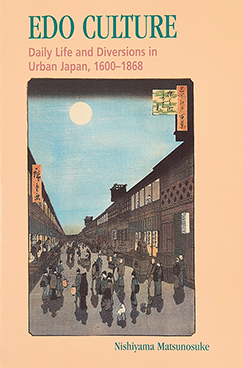 In Stock
Society / Culture
Edo Culture: Daily Life and Diversions in Urban Japan, 1600-1868
(University of Hawai'i Press 1997)
Matsunosuke Nishiyama
Though Nishiyama is one of the finest historians of Edo culture, his work has hitherto not been much translated.
Here, in Gerald Groemer's translation, we are given a selection of his writings.
Divided into three sections, this selection first gives a history of the city Edo (now Tokyo) itself during its formative decades, and how it was socially shaped by merchant and samurai alike.
Also, how the Edo aesthetic was formed by the various communal activities of the commoners within the city.
The second section indicates the degree of interaction between urban and rural cultures during the nineteenth century and shows how itinerant pilgrims, traveling players, and the like created an unprecedented cultural diffusion.
The third section is dedicated to music and the theatre.
In it the author analyzes the relations of the various social classes to musical genres and aesthetics in general, the final chapter focusing on urban vaudeville.
As the translator points out in his introduction, Nishiyama's main interest was the culture of the city of Edo itself.
This is because "the culture of Edo the city gradually became the hegemonic culture of the Edo period."
To this one might add that to the casual foreign viewer the culture of Edo then became the culture of Japan.
BACK