Synopsis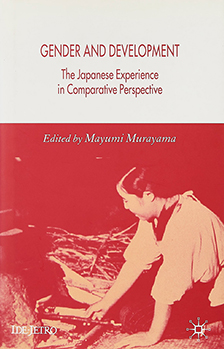 In Stock
Society / Culture
Gender and Development: The Japanese Experience in Comparative Perspective
(Palgrave Macmillan 2005)
Mayumi Murayama (ed.)
Though Japanese economic development is widely discussed, less attention is given to social development, and much less to gender-related issues.
By examining Japanese experiences related to gender, the various authors in this collection seek insights relevant to developing countries.
The book covers such themes as economic development and gender disparities, population policy, rural livelihood programs, as well as female political participation, the sharing of domestic work, and discourses on the modern family.
Each chapter deals with the Japanese case in a comparative perspective with developing countries.
The common message is a call for the creation of an interactive space to exchange individual experiences and insights between societies in order to formulate a more powerful gender and development agenda.
Among the topics considered in these papers are Japan's postwar family system and its implications, a two-country comparison as to how socialism has contributed to gender role changes, an investigation into the successes of women in local elections, etc.
In her introduction Murayama emphasizes the attempts made to integrate gender and development issues in Japan and in various developing countries.
Her essay, at the conclusion of the book, includes her own thoughts on this growing integration.
BACK