Synopsis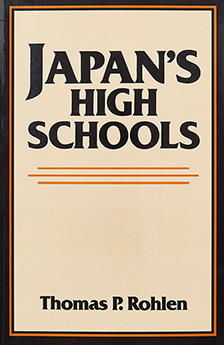 In Stock
Society / Culture
Japan's High Schools
(University of California Press 1983)
Thomas P. Rohlen
The author, an anthropologist, spent more than a year in Kobe observing a cross section of five urban high schools.
These included not only the most elite but also those vocational schools that were plagued by delinquency.
In this book he reports on the character of the institutions through descriptions of school organizations, classroom instruction, adolescent peer relations, and much more.
Placing these details into a larger context makes visible the factors that form Japanese high schools and makes them what they are.
The factors include the competitive university entrance system, the differences in student education, and differences in social background.
In turn the influence of high school education on Japan is assessed, how the student level of today will be the worker level of tomorrow.
The inherent contradictions among these considerations are examined and the anthropologist must conclude that providing Japan with a trained and disciplined work force is accomplished only at significant cultural and human costs.
Rohlen not only renders an ethnographic account of five schools, he also draws a portrait of today's Japanese high school education, one in which the varied ethnographic findings are used to provide contextual analysis.
BACK