Synopsis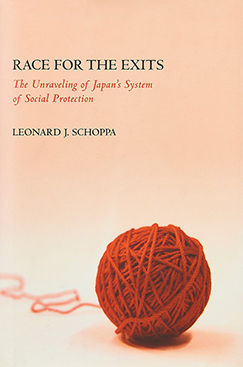 In Stock
Society / Culture
Race for the Exits: The Unraveling of Japan's System of Social Protection
(Cornell University Press 2006)
Leonard J. Schoppa
Japan's system of social protection that grew up between the 1960s and the early 1980s was well-suited to its time.
Now, however, there are a number of serious strains in the system.
Japan is facing a declining supply of workers and many Japanese firms are struggling against a system of social protection that burdens them
with high costs.
In addition, contrary to expectations, Japan's long-term recession has provoked no sustained political movement to replace the nation's malfunctioning economic structure.
It would seem that the country's basic social contract has proved resistant to reform, if not to erosion.
As the author writes: "The only way the nation can steer itself onto a sustainable macroeconomic path is by adopting fundamental social and economic reforms designed to boost productivity, encourage the participation of women and immigrants in the workforce, and facilitate work-family balance so that families can choose to have more children."
Now, instead of reform, firms shift jobs overseas, lifetime employment is no longer an expectations and women give up trying to balance family and career.
These trends have created grave economic pressures.
As industries reduce their domestic operations the economy is further diminished.
The unraveling continues and accelerates.
BACK