Synopses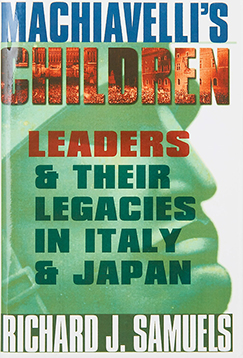 Politics / International Relations
Machiavelli's Children: Leaders and Their Legacies in Italy and Japan
(Cornell University Press 2003)
Richard J. Samuels
A study of comparative politics, this influential work compares and contrasts Italy and Japan, both faced with similar modern problems.
The author pairs political and business leaders in the two countries, emphasizing the role of human ingenuity when faced with political change.
The two countries share much—a failure of early liberalism, an approaching fascism, a number of imperialistic attempts, defeat in a war, and a problematic reconstruction, all the time obsessed with achieving modernity.
Samuels's approach parallels that of Machiavelli himself.
Ironic, understated, this was a cool analysis, the conclusions of a man who tried to tell it as it was.
It was just this candor that earned the Italian the suspicious reputation under which he still suffers.
Indeed, Samuels also makes clear that leadership consists of a constant manipulation.
It is personal leadership that is important because so much depends upon decisions made at critical junctures: the different choices made by Japanese and Italian communist party leaders after the collapse of the Soviet Union.
Beginning with the late development of the founding states after the Meiji Restoration and the Risorgimento, similar developmental strategies are identified and the moving forces behind each are described, compared and contrasted.
BACK