Synopsis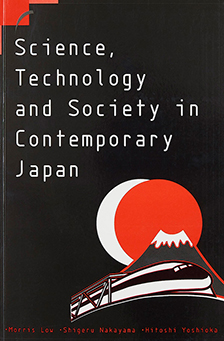 In Stock
Society / Culture
Science, Technology and Society in Contemporary Japan
(Cambridge University Press 1999)
Morris Low / Shigeru Nakayama / Hitoshi Yoshioka
Here is a book exploring the relationship between science, technology, and Japanese society.
It aims to examine how this relationship has contributed to economic growth and national well-being.
A team of three leading scholars in the field present a synthesis of competing views on the role of science, technology and medical care in contemporary Japan.
The presentation discusses government policy and the private sectors, communication in the age of computers, the role of the automobile industry, the part played by both quality control and the aerospace industry.
Also considered are medical care, the role of gender, and consumer electronics and their effects.
Some chapter headings will give an idea of the book and its scope:Cooperation vs. Competition; Quality vs. Quantity; National Interest vs.Local Interest; Domestic Technology vs. the Exportation of Technology;Women vs. Men in the Science and Technological Workforce.
Through this book the reader may gain some insight into the interplay between the different values and interests involved, the power and knowledge contained, all affecting their outcome in Japan.
Though Japanese science is sometimes seen as lagging behind, this account finds the nation turning to science and technology to guarantee its future.
BACK