Synopsis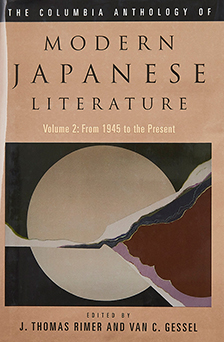 In Stock
Literature / Arts
The Columbia Anthology of Modern Japanese Literature: 1945 to the Present
(Columbia University Press 2005 / 2007)
Thomas J. Rimer / Van C. Gessel (eds.)
This two-volume history of contemporary Japanese literature assembles a series of works from the 1870s to the present.
It, the editors hope, "will provide a relevant, resonant experience of Japanese culture not otherwise available."
The first volume (published 2005) contains works by such important authors as Ogai Mori, Soseki Natsume, Kafu Nagai and many others covering the period "from the Restoration to the Occupation" (1868-1945).
The second volume (published 2007) contains works by Kobo Abe, Yukio Mishima, Fumiko Hayashi and many other writers to cover the period from 1945 to the present.
It totals 1728 pages and can thus contain entire works: in the second volume alone, one of Yasushi Inoue's longer stories, a novella by Kenzaburo Oe.
It also has space to indicate authors' diversities: not only Oe's novella but also his Nobel Prize address; not only Mishima's long story, "Patriotism," but also his modern Noh play "Yuya."
The structure is kept purposely loose so that writing is not confined by the presentation, a necessity to which the editors are alive since each has had wide experience with anthologies.
Van Gessel as co-editor of The Showa Anthology, and Thomas Rimer as author of the invaluable Reader's Guide to Japanese Literature.
BACK