Synopsis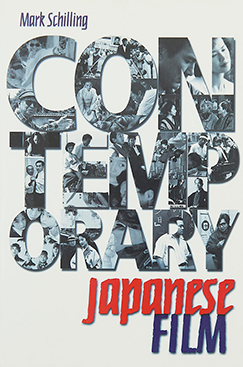 In Stock
Literature / Arts
Contemporary Japanese Film
(Weatherhill 1999)
Mark Schilling
Film critic for The Japan Times, Mark Schilling here contributes a look at the Japanese cinema of the 1990s.
Covering the decade 1989 to 1999, his book is filled with reviews, analyses, and interviews.
Interpretive essays provide insight into some of the issues and themes and create a coherent context against which innovations plainly show.
In his view, Japanese film at the end of the last century, and presumably on into this one, is in a period of ferment, as compared with some fallow periods before.
A number of independent sectors are seen as challenging the conventions of industrial, mainstream Japanese cinema.
Supporting this thesis are four hundred reviews of various representative films and a dozen profiles of leading producers and directors.
Schilling sees the new independents as rejecting the formulas that characterize much major studio release.
He also visualizes them reaching to new influences, often from other media—television, manga, music videos, computer games.
Films are still, in Japan as elsewhere, money-making devices, but Schilling believes that "the long-term prosperity of the industry depends on developing the right kind of human capital."
Here he indicates what this is.
BACK