Synopsis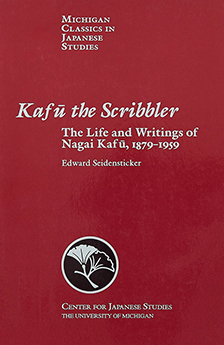 In Stock
Literature / Arts
Kafu the Scribbler: The Life and Writings of Nagai Kafu, 1879-1959
(University of Michigan Center for Japanese Studies 1990)
Edward G. Seidensticker
This is the latest edition of the only representative collection of the writings of one of Japan's finest contemporary authors, originally published by the Stanford University
Press in 1965.
Kafu is famous for his lyrical portrayals of the rapidly vanishing remnants of late Edo-period remaining in Meiji-era Tokyo.
By extension, however, his elegiac stories and novels speak to everyone—since all of us live in a time of increasingly rapid change.
As one critic has phrased it, "Kafu was one of the first modern Japanese writers who, upon direct contact with the Western world, managed to create a literature that was rooted in tradition, and at the same time marked by universalism."
Seidensticker's account of the author and his work is composed of a critical biography supported by translations from the works themselves, including complete several of the finest later works.
The accord between author and subject is extraordinary and the translations themselves have been called "superb beyond words."
Not only is Seidensticker one of the finest translators from the Japanese (The Tale of Genji, etc.) he is also, like Kafu himself, a critical connoisseur of Tokyo and author of some of the finest writing on the city.
BACK