Synopsis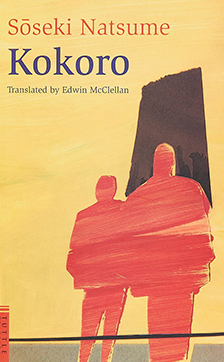 In Stock
Literature / Arts
Kokoro
(Tuttle Publishing 1969)
Soseki Natsume
This is Edward McClellan's acclaimed 1957 translation of the novel generally judged to be the greatest written during Japan's Meiji Period (1868-1912).
It was first published in serial form in the Asahi Shimbun newspaper in 1914 and appeared in book form slightly later.
Kokoro, a term sometimes rendered as (Lafcadio Hearn's definition) "the heart of things," deals with the transition from the Meiji period to the modern era.
It does this by recounting the friendship between a young man and an older man; the first, a student, the second (Sensei) his teacher.
The novel traces the relationship between master and disciple.
The former introduces the student to the moral dilemmas of life.
In so doing he uses himself as the example.
He feels morally responsible for the suicide of a friend and, in the end, he takes his own.
The student inherits this tragic understanding of life—the modern intellectual's sense of his own failure and his personal culpability.
Finally, however, the younger man comes to see that such failure is caused by the same alienation which Sensei himself felt.
As one critic has said, "psychological guilt is less important than philosophical isolation," and it is this sense of isolation which is a continued theme in Soseki's work.
BACK