Synopsis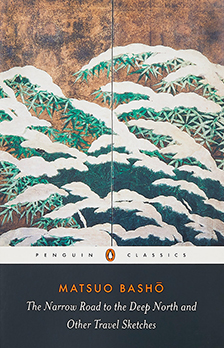 In Stock
Literature / Arts
The Narrow Road to the Deep North and Other Travel Sketches
(Penguin Books 1966)
Matsuo Basho
Matsuo Basho (1644-1694) is perhaps Japan's most famous poet, having perfected the haiku and made the poem-diary his own.
He felt strongly that a poet should combat convention and this took the more physical form of his many travels through which he hoped to enlarge both his poetry and his life.
This journey, also known as the Narrow Road to the Deep North, took him to the then most underdeveloped part of Japan, the northern area of Honshu.
In all, he covered about 1500 miles in some 156 days.
He also during this time wrote his finest travel diary and penned some of his best poems.
As one critic has written: "Poetry and prose harmoniously complement one another.
Subsections are strung together by the same subtle principle of unity used in linked verse.
The main theme is a universal one: a quest for the ultimate beauty of nature which had been lost in steadily decaying contemporary society."
The diary's title, though literal, might also be seen as metaphorical—the author traveling far his narrow road in search of a more simple nature, one which had once been ours.
This is Donald Keene's authoritative translation.
BACK