Synopsis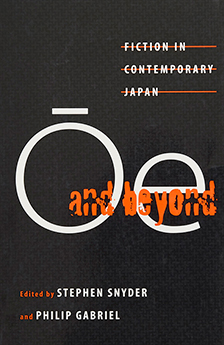 In Stock
Literature / Arts
Oe and Beyond: Fiction in Contemporary Japan
(University of Hawai'i Press 1999)
Stephen Snyder / Philip Gabriel (eds.)
Here are twelve chapters, each written by a different scholar of modern Japanese literature, each about a contemporary author—from Kenzaburo Oe to Banana Yoshimoto.
As the title of the book suggests, the editors have taken the stance of the novelist Oe as an entrance into an investigation of the state of contemporary fiction.
Oe has said that present-day Japanese fiction is largely "the experience of a youth politically uninvolved, disaffected, content to exist within a late adolescent or post-adolescent subculture."
A result of a panel organized for the 1993 Mexico City conference of the Association for Asian Studies, the book examines this claim, drawing examples from a number of contemporary writers including, beside the above—Kenji Nakagami, Haruki Murakami, Shusaku Endo, Takako Takahashi, and Ryu Murakami, among others.
Despite the many differences illuminated, however, it is found that "narrative itself is reaffirmed … it is the urge to narrate that remains constant and remains the keystone of contemporary Japanese fiction."
This is one of the many qualities discovered by these scholars as they trace the contours of the Japanese literary landscape, as they delineate the literary state now and what it is likely to become.
BACK