Synopsis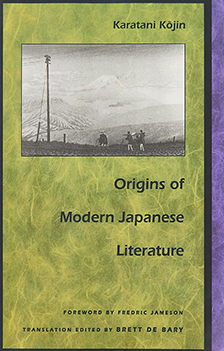 In Stock
Literature / Arts
Origins of Modern Japanese Literature
(Duke University Press 1993)
Karatani Kojin
Karatani Kojin is one of Japan's leading critics.
In his work as a theoretician he has described Modernity as have few others.
This is Brett De Bary's translation of his Nihon Kindai Bungaku no Kigen, (1980), a work that re-evaluates the literature of the entire Meiji period and beyond.
As one critic has said, Karatani's thought "has had a profound effect on the way we formulate the questions we ask about modern literature and culture … [his] argument is compelling, moving even, and in the end the reader comes away with a different understanding not only of modern Japanese literature but of modern Japan itself …"
As a literary critic Karatani is at his most provocative when he discusses the discovery of the landscape both in painting and in writing, and in the later detection of the child as a valid human being, subjects which lead the author into considerations of ethnography, religion, and language, in the East and in the West.
Among the many authors discussed are Soseki Natsume, Doppo Kunikida, Katai Tayama, and Shoyo Tsubouchi.
The conclusions and considerations reached are both bold and commanding.
They have in their way molded the way of theoretical literary history.
BACK