Synopsis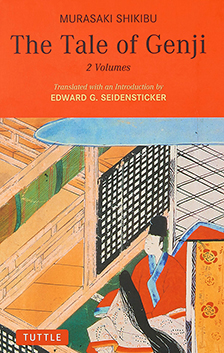 In Stock
Literature / Arts
The Tale of Genji
(Tuttle Publishing 1976)
Murasaki Shikibu
The Genji Monogatari is the most famous work of Japanese literature.
It is attributed to an early eleventh century Japanese noblewoman, Murasaki Shikibu, and is usually called the world's first novel, certainly the earliest novel still considered a classic.
There are later movie and TV adaptations, and even a manga version.
Japanese writer Yasunari Kawabata said in his Nobel-Prize acceptance speech that "even down to our day there has not been a piece of fiction to compare with it," and it remains the basic literary text against which all other can be compared.
The tale concentrates on the romantic life of Prince Genji and describes the various customs of the aristocratic society of which he was a member.
Not only is he celebrated for his good looks, he is also distinguished by the loyalty he shows the women in his life.
There have been a number of translations of the Genji, all of them with their virtues.
The earliest is the 1881 version of Kencho Suematsu, followed by Arthur Waley's of 1926-1933.
Hellen McCullough translated portions in 1994, and Royall Tyler in 2001.
This is Edward Seidensticker's, the first complete translation.
BACK