Synopses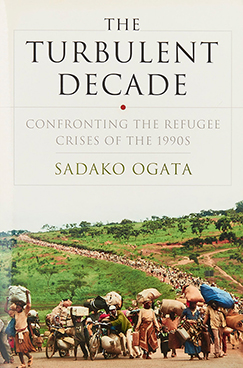 Politics / International Relations
The Turbulent Decade: Confronting the Refugee Crises of the 1990s
(W.W. Norton & Company 2005)
Sadako Ogata
Former United Nations High Commissioner for Refugees, Sadako Ogata, here reflecting on this turbulent decade of her life, writes that she headed a kind of "fire brigade" which tried to put out blazes before they became conflagrations.
She and her commission struggled with four major events:refugee problems caused by the Iraqi invasion of Kuwait, by the breakup of Yugoslavia and the resulting Balkan War, by genocide in Rwanda, and by the recent war in Afghanistan.
Though she and her commission fulfilled many a humanitarian obligation, the message of this memoir is that humanitarian action is inherently inadequate.
What is necessary are concerted political and security actions by the powers concerned.
And this is what is most difficult to achieve, this convergence of strategic interests.
What she wants to emphasize, says the author is "that refugee problems are essentially political in origin and therefore have to be addressed through political action."
Some successful operations involve military-civilian cooperation but there are others that do not.
Here Ogata has bravely included many examples of how both the U.N. and NATO forces interpreted their mandates so narrowly that the protection of civilians was all but excluded.
BACK