Synopsis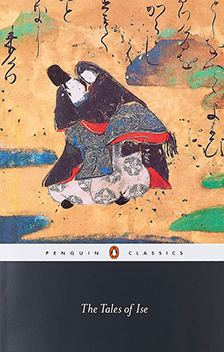 In Stock
Literature / Arts
The Tales of Ise
(Penguin Classics)
VARIOUS (Peter Macmillan, transl.)
The Tales of Ise is a collection of works by multiple unattributed poets, authored during the Heian period (794-1185). It takes the form of a series of uta monogatari, or "poem tales", short narratives that provide the context for poems on love, culture, exile, and adventure – but mostly love. Its scope of influence has been vast and the brilliance of its wordplay and thematic association had a profound impact on Noh theatre.
The protagonist is one Ariwara no Narihira, a handsome hero with a checkered family past, military prowess, and a great talent for poetry. Elegant, sophisticated, and an excellent lover, he is nevertheless a marginalised figure. It is this very casting out, however, which allows him to refine his aesthetic sensibility and come to embody the archetypal Heian poet-lover.
This is no stiff or stilted collection: it is vibrant and charming, filled with pithy humor (albeit couched in appropriately courtly language) and irony, rich with humanity. It was also a radical work, using an experimental structure and re-imagining existing narratives in new contexts. Such subversion contains, at the same time, superlative examples of aesthetic concepts central to classical Japan, including miyabi (elegance) and setsugekka (snow, moon and flowers).
A millennium separates Narihira's world and ours, yet the book continues to resonate. It continues to inspire artists and writers, not least because of its powerful, painful, playful depictions of love in all forms – familial, romantic, unrequited, and enduring. It is this rich and relatable humanity that defines and immortalises the Tales.

BACK