Synopsis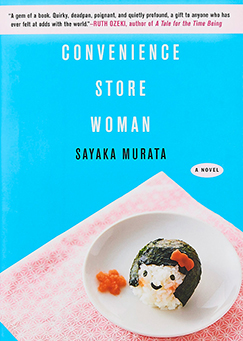 In Stock
Literature / Arts
Convenience Store Woman
(Grove Press)
Sayaka Murata (Ginny Tapley Takemori, transl.)
Japan's ubiquitous convenience stores are impeccably organized and painstakingly presented retail spaces that have become culturally embedded into contemporary society and are reflective of its convenience mentality; they are known and envied worldwide.
By contrast, the convenience store worker has attracted little attention: underpaid, underappreciated, almost unnoticed. Here they take center stage: from the opening paragraph, the reader joins Keiko, an unmarried 36 year-old woman with an unusually long career as a konbini clerk, as she glides seamlessly, almost sensually, through her beloved store, maintaining its perfection while anticipating every customer need.
It's a job she loves and excels at, but she knows that those around her are perplexed – why won't she even try and get a "proper" job? Equally perverse (to others) is her lack of interest in love, sex, or marriage. She is "flawed", she must be "cured" - but she doesn't understand why. At times, her lack of empathy and disinterest in social norms seem to point to psychopathy, but her unabashedly self-centered and straightforward approach to her life choices is also hard to criticize. Keiko's failure to fit in and become a proper shakaijin (fully-fledged member of society), can be flipped round and framed as Japan's failure to accept alternative working patterns and lifestyles as equally valid.
Convenience Store Woman has won praise for its absurdity, its quirkiness, its deadpan delivery, but it also shines a devastatingly acerbic light on the onerous social pressure in contemporary Japan to fit in - even if you're happy as you are.
BACK