Synopsis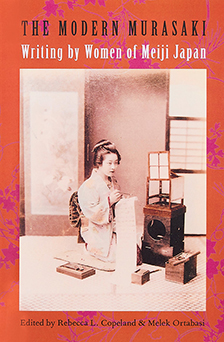 In Stock
Society / Culture
The Modern Murasaki: Writing by Women of Meiji Japan
(Columbia University Press 2006)
Rebecca L. Copeland (Editor), Melek Ortabasi (Editor)
Writing in 1890, the author Shimizu Shikin called for a "Meiji Shōnagon", invoking the Heian heyday of women authors and pleading for the re-emergence of the female literary voice. The journal Bluestocking, launched in 1911, reached further back still in its opening manifesto, alluding to the supreme sun goddess Amaterasu as "original woman" and bemoaning the subsequent sublimation of woman to mere lunar, reflective status.
The shifting cultural and political sphere that was Meiji Japan – a period of purported civilization and enlightenment and certainly one fraught with change and challenges – and the growing focus on individual identity therein, offered a new intellectual space for women. There was a flourishing of literary activity among educated women, who pushed against the boundaries of the "good wife, wise mother" (ryōsai kenbo) female role – with her ideal qualities of "refined manners, docility, and modesty" – embedded so deeply in the ideology of the Meiji government.
This welcome anthology brings together translations intended to communicate the depth and vibrancy of women's writing in this period, across multiple genres including poetry, essays, and speeches. More than mere showcase, it is also an act of recovery through translation: a reconstruction and reclamation of the nascent voices of a re-emerging female literary tradition. Confounding calls to "observe moderation" and stick to their "innate qualities as women writers", the women translated here are together a representative sample of the diversity, vitality, and tenacity of women writers as they experimented, tested, and adapted their creative voices.
BACK