Synopsis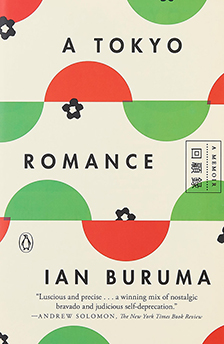 In Stock
Society / Culture
A Tokyo Romance
(Penguin 2018)
Ian Buruma
Stumbling, accidentally, into Japan in the early 1970s, Ian Buruma stayed for most of that decade and has since established his reputation as a thoughtful and knowledgeable guide to the history, society, and popular culture of the country. This book is an entertaining account of the author's introduction to Japan in an understudied and underappreciated time.
As a young and idealistic middle-class Dutch boy Buruma found himself going against the counsel of an older Amsterdam associate who had lived in Tokyo and who told him in no uncertain terms to "steer clear of Donald Ritchie's crowd." Arriving in Japan with little knowledge beyond the surreal and fascinating attractions of its avant-garde theater scene, Buruma soon found himself touring, traveling, drinking and cavorting not only with the 'Ritchie crowd,' but also with many other famous movers and shakers in the performance-art world of the late 1960s and early 1970s.
A fascinating account of a period of Japanese history little covered in English-language literature, this book is a must read for anyone interested in postwar Japanese theater, film, or dance. Accessible, compelling, and informative, it captures the sheer power and energy of the counterculture of the period, dismantling the homogeneous, comfortable, middle-class ideology of the salaryman so familiar to the West. By doing so, it stands as a remarkable witness to one of the most exciting and innovative periods of recent Japanese artistic history.
BACK