Synopsis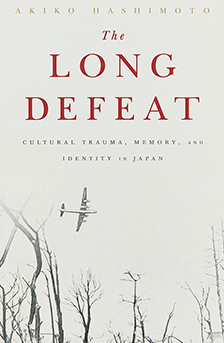 In Stock
History
The Long Defeat: Cultural Trauma, Memory, and Identity in Japan
(Oxford University Press 2015)
Akiko Hashimoto
Recent attempts by the Abe administration to revise war-renouncing Article 9 of Japan's Constitution are a reminder of the legacy of the country's 1945 surrender to the Allies. Author Akiko Hashimoto examines this legacy through the lens of "cultural trauma," positing it as a problematic experience incorporated as part of collective identity. Despite this nature of the event, she contends that there is no collective memory of trauma. Rather, there is a matrix of coexisting and competing memories, the result of different social groups adopting variant trauma narratives.
Hashimoto divides these narratives into three main categories: the heroic, focused on individual sacrifice; the catastrophic, focused on victimhood, tragedy, and destruction; and the aggressive, focused on violent and harmful acts of imperialism and invasion. Much of the book is concerned with how these narratives are interwoven into everyday postwar life. Personal testimonies, popular media, textbooks, and manga are examined for how they reflect each category in terms of war responsibility, national belonging, and individual-state relations.
Hashimoto then offers three visions—nationalism, pacifism, and reconciliation—for Japan's "moral recovery." These pathways are compared with the postwar reconstruction of German identity, noting that the global norm for atonement, rooted in Western liberal tradition, may be a poor fit for Japan.
Today we live in a "culture of memory" where recollection of national past is vital for present living. Hashimoto sets out Japan's polyphonic discourse on war memory, amplified by this culture of memory, and points to how it could be orchestrated to find a concordant path forward.
BACK