Synopsis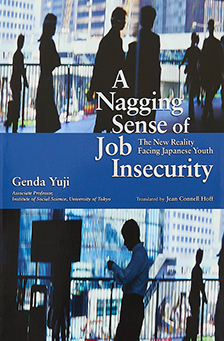 In Stock
Economics / Business
A Nagging Sense of Job Insecurity: The New Reality Facing Japanese Youth
(Original: Chuokoron-Shinsha (2001) & Translated: International House Press (2005) 2006)
Genda Yuji (Translated by Jean Connell Hoff)
This impressive study by Yuji Genda presents a sustained analysis, based on microlevel data from national statistical surveys, of how employment prospects changed for young people in Japan during and consequent to its post-bubble recession. Published in 2001, his claims were a robust, data-driven response to a media-fueled narrative that portrayed Japan's youth as failing to engage with the labor market because, having been mollycoddled by their parents, they lacked interest in working hard for a living.

Genda focuses on problems inherent to the demand side of the labor market: hiring policies, aging, labor shortages, and employment diversification, or atypical patterns of employment. In particular, he illuminates how an overwhelming concern for the preservation of employment for the so-called "salarymen"—male, middle-aged, middle-management employees—has often disenfranchised peripheral individuals—namely, women under 30 and over 60. Thus would-be workers are placed in a double-bind: can't work and disdained for not working.

The problems, as Genda avers, are even more entrenched. Lack of opportunity means fewer appointments that fit well, which in turn raises the likelihood of job switching, in effect affirming the notion that young workers are fickle employees. In Genda's view, the blame lies primarily with employment restructuring that favors an already privileged group or generation, rather than anything to do with a "work-shy" youth.

This discourse-changing book shed light on the complexity and consequence of interactions between economic performance and the structures and consequences of employment practice. Genda does not flinch at asking challenging questions, and his responses are simultaneously reasoned and penetrating.
BACK