Synopsis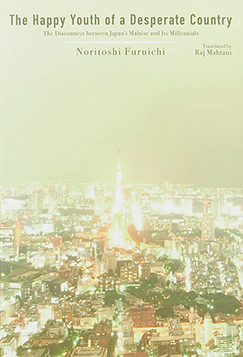 In Stock
Society / Culture
The Happy Youth of a Desperate Country: The Disconnect between Japan's Malaise and its Millennials
(Original: Kodansha (2011) & Translated: Japan Publishing Industry Foundation for Culture (2017) 2017)
Noritoshi Furuichi (Translated by Raj Mahtani)
The bubble is long burst, stable and lifelong employment are no longer guaranteed, generational inequality is on the rise (with young people as the losers, of course), and rates of marriage and births are dwindling. Faced with such a dire-looking society, the youth of Japan must be miserable. Right?
Not so according to this celebrity sociologist – a millennial himself. In this controversial work, first published in 2011, he contends that young people are, actually, pretty satisfied with life, certainly more so than their older counterparts, both now and compared to when those counterparts were twenty-somethings. It is a study of adaptation: economic despair and desperation may abound, but there is happiness and indeed hope to be found in a generation which is certainly facing some serious struggles but has also been released from some of the less-than-ideal stresses of the past – think the risk of karōshi, death from overwork.
Although heavily footnoted, this is no dry academic text: it is a refreshingly frank and honest argument against catastrophising and in favor of being cognizant of and capitalising on the reality of and further potential for greater individual happiness. Furuichi starts by contemplating the definition of youth and the meaning of happiness before dismantling assumed notions of how said happiness is measured and experienced. It is a broad and lively discussion that encompasses examinations of Edo-rooted nationalism, the impact of the information age, growing movements of grassroots political activism, and even the prospect of it being "OK" for Japan to end.
BACK