Synopsis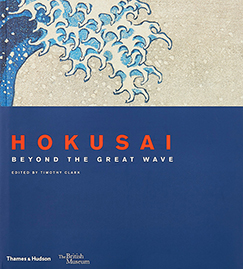 In Stock
Literature / Arts
Hokusai: Beyond the Great Wave
(Thames & Hudson, the British Museum 2017)
Edited by Timothy Clark
The stupendous, fractal-tipped wave by Katsushika Hokusai (1760–1849) is one of the most iconic images in the world—lauded for its vibrant use of Prussian blue pigment, its innovative perspective, its composition, and the way it invokes the terror and beauty of the natural world. It was designed in 1831, toward the end of Hokusai's life and career, a period that is the focus of this visually stunning catalogue edited by Timothy Clark and published to accompany a 2017 British Museum exhibition.

Hokusai's last three decades are examined from the vantage point of several themes: worlds seen, worlds imagined, Hokusai's world, and immortality, a conceit that illuminates the personal, spiritual, and artistic endeavors that informed and inspired his art. By this stage of his life Hokusai was an exceptional creative force, having mastered Japanese, Chinese, and even European techniques, and was growing braver and more experimental in his conceptually driven approach. Drawing had become a "vehicle for discovery and personal guidance" and he was spurred on by a desire to—as he himself put it—"revolutionize" his vocation of painting.

Sumptuous reproductions of the artist's body of work, from prints to line drawings for painting manuals to illustrated books, are accompanied by essays discussing his evolution as an artist; his thoughts about faith, real and imagined worlds, nature, and form; the extraordinary power and technical prowess of his use of the line; his approach to aging and his artistic control in old age; and the artist in the context of social change occurring in the late Tokugawa period (1603–1867).
BACK