Synopsis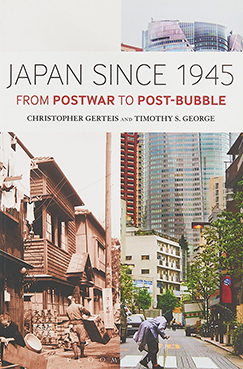 In Stock
History
Japan Since 1945: From Postwar to Post-Bubble.
(London: Bloomsbury Academic 2013)
Christopher Gerteis and Timothy S. George
This interdisciplinary collection of essays edited by Christopher Gerteis and Timothy S. George was conceived to answer a simple question: does Japan really matter anymore? In the post-World War II years the nation established itself as a vibrant and pacifist democracy, pulled off spectacular growth, and enjoyed global economic dominance. Then came bubble collapse followed by growth decline, deflation, discontentment—and an increasing suspicion that Japan's significance was on the wane.

Post-bubble Japan may well compare unfavorably to the giddy heights of the 1980s, but it still enjoys the highest standard of living in East Asia. The interest, particularly among other highly industrialized nations, in Japan's evolving (in)significance is likely driven by the knowledge that the challenges it faces are no different from those of any postindustrial state, and fear that the inevitable consequence of industrial decline, high youth unemployment, aging population, and declining birthrate is the end of both affluence and relevance.

The collection is organized into four sections examining civic life, legacies of war and occupation, the establishment of a postindustrial economy, and how public memory interacts with social, political, and economic change. Each contributing author attempts to trace his or her topic's trajectory through the postwar period and into post-bubble Japan, often taking a multidisciplinary stance to better consider the scope and significance of these transformations. This integrative approach, together with references to earlier discourse as well as new research, enables the book to engage constructively in a more nuanced discussion than simply framing Japan as a nation lost.
BACK