Synopsis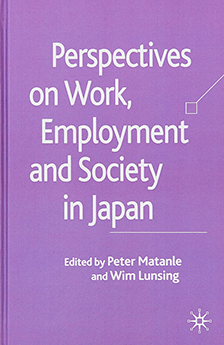 In Stock
Politics / International Relations
Perspectives on Work, Employment and Society in Japan
(Palgrave Macmillan 2006)
Peter Matanle and Wim Lunsing (Editors)
For thirty years between 1960 and 1990, lifetime employment in a large enterprise was the normative ideal in Japan. Those lucky enough to attain this goal were afforded security and stability. That model began to crumble, however, with the asset price collapse of the early 1990s and the subsequent reorganization of employment structures and practices. This 2006 collection of writings edited by Peter Matanle and Wim Lunsing uses the lifetime employment model as a lens through which to examine Japan's evolving employment landscape and its wider social impact.

Each of the 11 essays focuses on a different facet of that landscape—engineers working abroad in a globalized economy, attitudes about the workplace held by educated stay-at-home wives, the atypically employed "freeter," for example. Nonetheless, shared themes run throughout that, when viewed collectively, demonstrate the breadth and complexity of employment model shifts. These are examined from the angles of continuity and change, agency and structure, homogeneity and diversity, globalization, and the link between work and identity.

In seeking to bridge the gap between macro-level surveys and micro-focused single studies, Matanle and Lunsing aim to reveal the "rich variety of deeply textured experiences" of work and employment that, despite the assumed dominance of lifetime employment as a normative model, have always been present in Japan. Far from a sweeping characterization of "the Japanese," their portrayal shows how individuals and discrete groups negotiate their working roles and experiences with a mixed assortment of behaviors ranging from conformity to deviation.
BACK