Synopsis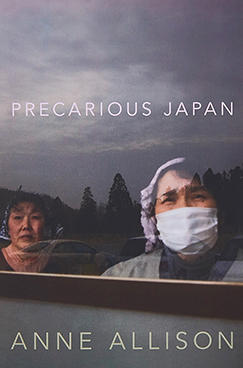 In Stock
Politics / International Relations
Precarious Japan
(Duke University Press 2013)
Anne Allison
The premise of this ethnography is that, in contrast to ultra-security of the postwar years, Japan is now in a state of precarity—in terms of poverty, hardship of life, un- and under-employment—which manifests itself as a sense of precarity—unease, desociality, a lack of "grievability", namely the understanding that life when lost is worth grieving. This state was compounded by the Great East Japan Earthquake of 2011: Allison evokes the scale of the devastation through vivid analogies of mud and tremors, ravaging an already "liquified Japan".
While precarity was originally used in labor movements to describe uncertain work conditions, here it expands to identity and lifestyle, linking economic structure to intimate internal feeling. Secure Japan was a product of Japan, Inc., where the "social factory" at home functioned in harmony with the "work factory" to supercharge productivity and skyrocket growth. In post-growth, neoliberal and globalist Japan, however, this marriage has broken down, leaving a "precariat—the precarious proletariat" to navigate through an increasingly relationless and unfulfilled society beset with problems arising from crumbling intimate connections and destabilized family norms.
Allison traces this precarity across key aspects of contemporary society: homes and homelessness; the desperation and hope (lessness) of lives lived in precarity; and aging, suicide, and care deficits as Japan abandons a "politics of living together…[for] a politics of survival". The final chapter points to renewed awareness of connectedness prompted by the 2011 disaster, but overall this is an unremittingly bleak account of lives struggling against disintegrating socioeconomic structure.
BACK