Synopsis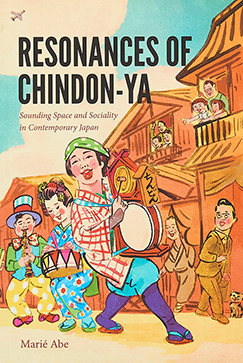 In Stock
Society / Culture
Resonances of chindon-ya : sounding space and sociality in contemporary Japan
(Wesleyan University Press c2018)
Marié Abe
Chindon-ya are ostentatiously costumed street musicians who first emerged in the 1840s and reached their heyday in the following decade. Hired by local businesses to roam neighborhood streets publicizing goods and services, they became closely associated with the everyday soundscape and the sociality of urban spaces. In this fascinating study on sound, space, and listening, ethnomusicologist Marié Abe traces the resurgence, from the 1990s onwards, of chindon-ya as an intersectional practice straddling history, music, enterprise, and political engagement.

The study is built around four themes: historical memory and genealogy; sound labor as enticement in public space; marginality and alliances across social differences in an increasingly multicultural Japan; and the role of sound in politics and protest in neoliberal Japan. Abe also examines the practice's encounter with the West. Her detailed depiction of chindon-ya captures the nuance and possibility of this genre-defying practice: it is at once music and noise, tradition and modernity, performance and enterprise.

Of particular note, in the context of the social alienation that is increasingly common in Japan's urban spaces, is Abe's view of the sonic labor of chindon-ya as rooted in a dynamic philosophy of sociality, in which people engage with one another and their surroundings. Despite chindon-ya being embedded in capitalism, its practice displays a clear humanistic commitment to social encounters that are irreducible to capital. Equally, Abe's concept of resonance as an articulation of "sound, space, and sociality" works to illuminate relationships among listeners, landscapes, and cultural memory in contemporary Japan.
BACK