Synopses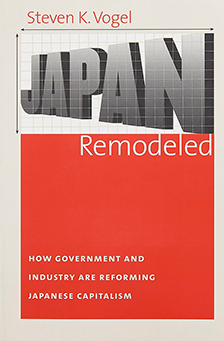 Politics / International Relations
Japan Remodeled: How Government and Industry are Reforming Japanese Capitalism
(Cornell University Press 2006)
Steven K. Vogel
Japan's market economy certainly has its ups and downs.
In the 1980s it seemed to threaten all other countries.
In the 1990s the threat faded during more than a decade of stagnation.
Once into the new century, however, there has been a steady rebound.
In accounting for this the author, professor of political science at the University of California in Berkeley, through executive interviews and case studies, provides an understanding.
He notes that Japan's distinctive market economy derives not from any innate cultural difference but from history and politics.
Business in Japan tends to favor a collaborative approach, one which suggests social harmony and at the same time makes profits.
This is to be contrasted with American-style liberalization, an effect of which is often found ambivalent in Japan, where mergers and acquisitions are usually seen as disruptive.
Though Japanese life-long employment is now revealed as more a desire than a fact, this ideal remains long-term.
The stagnant decade was spent restructuring.
Merit-based wage compensation (rather than sheer longevity) began to be rewarded, subsidiaries were sold, production was moved to cheaper locations abroad.
The general house-cleaning continues, but the pattern here revealed is distinctive.
BACK