Synopses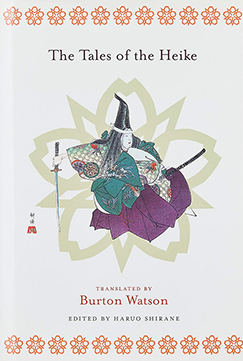 Literature / Arts
The Tales of the Heike
(Columbia University Press 2006)
This is a new translation of substantial sections from Japan's greatest war chronicle—that famous account of the events which led to the downfall of the Heike clan and the ascendancy of the Genji clan, covering the years between 1131 and 1331.
Though it has been several times translated, in full or in part, the Heike Monogatari has never before been rendered by anyone the caliber of Burton Watson, the pre-eminent translator of classical Japanese and Chinese literature.
Here he combines a colloquial tone with a certain formality of diction—an English style that allows him to parallel the Japanese and render nuances not heretofore visible.
These events are presented with an abundance of violent action, but the work is most distinguished by its tone.
This is frankly elegiac.
We view the events from a distance, the eternal evanescence of all things is detected in many an incident.
Watson's version, however, is not intended to be complete.
It is edited to be a part of Haruo Shirane's new anthology of classical Japanese literature and would comprise about half the text of the original.
The sections are connected by several précis (written by Shirane) which connect the parts of the story.
BACK