Synopses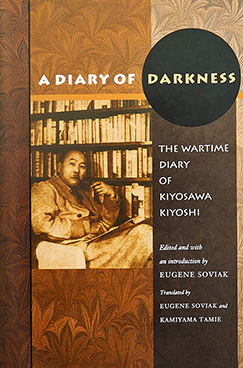 History
A Diary of Darkness: The Wartime Diary of Kiyosawa Kiyoshi
(Princeton University Press 1998)
Kiyoshi Kiyosawa
This wartime diary of Kiyoshi Kiyosawa (1890-1945), the Ankoku Nikki, was originally published in 1948 and soon attained an unusual level of acclaim and popularity.
Among the reasons was that here was a book that criticized wartime leadership and had done so at a time (the diary begins in 1942) when others were notably silent.
Another reasons for its continuing interest is that this is a chronicle of Japan's war years and offers all sorts of telling details.
It is social history at its most interesting, one that, as the author has said, became an "inadvertent autobiography."
Originally intended as notes for a history of the period (one that due to the premature death of the author was never written) the diary is now considered one of the most important and compelling documents from wartime Japan.
It here appears in the English translation of Eugene Soviak and Kamiya Tamie.
Filled with a criticism of Japanese military authoritarianism that had to be repressed publicly, with the rise of hysterical pro-military propaganda, with increasing poverty and disorder, and with the author's own struggles to avoid arrest, this is a courageous and perceptive account of wartime Japan.
BACK