Synopsis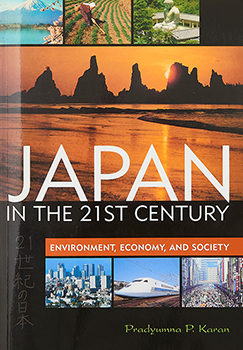 In Stock
Economics / Business
Japan in the 21st Century: Environment, Economy, and Society
(University Press of Kentucky 2005)
Pradyumna P. Karan
This is the first full-length English-language textbook on Japan's geography, culture, politics, and economy to appear in almost four decades.
It offers insights into the current realities of the country.
It also investigates the political, economic, demographic and environmental challenges that face Japan.
In so doing, the author explores the opportunities that will shape Japan and consequently affect the world.
He indicates strategies and policies that will make economic and political change desirable, and that will stimulate long-term prosperity and economic vitality.
Japan has become the world's second largest economy, something to emulate, to fear, a power without arms.
The subject, volatile and changing, offers opportunities for important research and important ways through which to understand the singularities of this country.
Japan shows old ways shaken and new ones developing at a hectic, sometimes heedless race.
The author's interest is in the application of geographic theories and methodologies to analyze problems of environment, development and social change.
He is here joined by Dick A. Gilbreath, the cartographer whose work illuminates this text.
The result is a combination of text, maps and photographs that provide an understanding of Japan's geography, culture, and economic and political development issues.
BACK