Synopses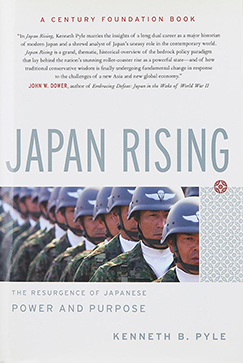 Politics / International Relations
Japan Rising: The Resurgence of Japanese Power and Purpose
(Public Affairs 2007)
Kenneth B. Pyle
A senior scholar of Japan who is also a foreign policy analyst, Kenneth Pyle here analyzes the large issues facing Japan, including how the processes of history and "national character" shape Japan's role in the world.
In this book he gives an historical overview of the policies that made possible Japan's rise as a powerful state, and how both conservative and traditional political thought is undergoing change in response to the larger world outside.
The author finds that Japan is "regaining its voice," that the spirit quieted by defeat and then distracted by the needs of a mercantile foreign policy, is now emerging.
Japan is becoming more positive in its posture and its intentions.
There is debate about the Constitution, debate on Japan's role in other nations' wars, debate on how best to counter perceived enemies.
After such a lengthy period of postwar political passivity, the Japanese may well find their new disposition both exciting and liberating, believing that Japan ought to assert its own identity in the field of international politics.
At the same time Japan must establish a new consensus on national goals.
Yet as Japan becomes more entangled in international politics, trends will become harder to discern and their meanings more difficult to decipher.
BACK