Synopses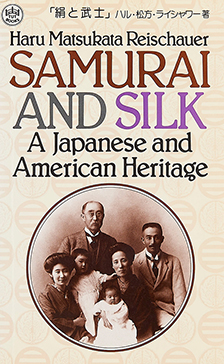 History
Samurai and Silk: A Japanese and American Heritage
(Tuttle Publishing 1986)
Haru Matsukata Reischauer
Haru Matsukata led an unusually interesting life.
Both parents had lived in the United States and both retained these ties.
This occasioned some difficulty when she returned to Tokyo in 1937, but in 1945, after Japan's defeat, she found ready work as translator and correspondent, and in 1955 she married Edwin Reischauer, who was appointed as United States Ambassador in 1961.
Rather than write a personal memoir, however, she here explores what she regards as her dual heritage, through the lives of her two grandfathers.
Silk was the provence of one of them, a man of peasant origins.
The other was of samurai descent.
Together, both of these grandfathers played roles in reshaping Japan.
The author clearly sees them as playing a part in laying the foundations of contemporary economic power.
The samurai grandfather was eventually made Prince Masayoshi Matsukata and was twice prime minister.
More importantly, as finance minister he helped create Japan's financial system.
The "silk" grandfather emigrated to America and founded a financial empire there.
As the author observes, their careers complemented each other.
In her book she herself provides the saga of an author mediating between her two cultures.
BACK