Synopses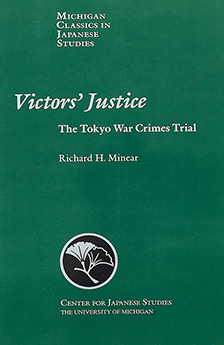 History
Victors' Justice: The Tokyo War Crimes Trial
(University of Michigan Center for Japanese Studies 2001)
Richard R. Minear
The Tokyo war crimes trial took place over half a century ago, beginning in May, 1946, and lasting for two and a half years.
Its purpose was to try leaders of imperial Japan for committed wartime "crimes."
Considered contentious at the time, the trial has since been heavily criticized, but never as cogently as in this now classic account of its aims and its proceedings.
In stating his aims the author quotes a legal advisor at the trials: "I do not hold a brief for Tojo [Hideki, Japan's wartime minister and ex-prime minister].
I do hold a brief for justice, even to my enemies."
In pursuing this end Minear states that "my major concern has been to challenge the prevailing image of the trial, to demolish its credibility and its verdict."
All of the processes of the trial are here assembled and questioned.
The aim is to discover if Tojo was right when, before his execution, he said: "This trial was a political trial. It was only victors' justice."
When this book was originally published the American war in Vietnam was underway.
The unpopular actions of the U.S. military found parallels with Japanese wartime activities and made the concept of victors' justice a very real one.
BACK